Smarty7.com
Start: Jul 27, 2022
Min. deposit: $50
Min. payout: 0.0005 BTC, 0.02 ETH, 2 USDT (TRC20), 50 TRX, 50 DOGE, 0.05 LTC, 10 XRP, 0.02 BNB, 2 BUSD (BEP20), 0.1 SOL, 2 USDT (BEP20), 80 USDT (ERC20)
Type of payments: Manual (up to 24 hours)
Affiliate Program: Up to 10%
Payment systems: Bitcoin, Ethereum, Litecoin, Ripple, Dogecoin, Tether, Tron, Binance Coin
Plans: 1.55% hourly for 71 hours (deposit included); 112% after 68 hours
Website: Smarty7.com
About

Smarty7.com
The Smarty7 platform offers several types of investment offers for each registered participant. If you select the "Hourly" plan, the % of the profit, which includes the deposit, will be credited to the balance of your account in the project every hour throughout the entire period of the plan.
If you select the "After" plan, you will receive a high % of profit and the return of the deposit body in in one payment at the end of the plan. Each of these plans has limited availability time on our platform. As soon as the timer ends, updated plans are offered with new conditions for return on investment. Don't miss your chance to make your first investment when the plan is still available. However, that's not all: the Smarty7 investment platform offers an additional bonus up to 6% to the deposit amount when reinvesting from your account balance in the project.
Free registration on the website
No withdrawal fee
Quick deposit and withdrawal (up to 1 hour)
Your account is protected by the leading security protocols
Up to 17% referral bonus from each referrals deposit
Smarty7.com

 Review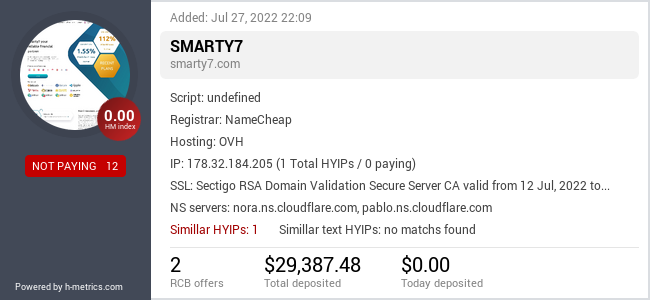 The Smarty7 team has developed a powerful AI-based cryptocurrency trading bot. Due to full automation, the bot trades 24/7. It manages a portfolio that contains the best coins: Bitcoin, Ethereum, Litecoin, and 100+ other cryptocurrencies on the best world exchanges.
Using tools such as DCA, Market-Making, Arbitrage, and our own analysis charting software, the bot monitors the price movement and automatically sells/buys when the price moves in the other direction. By raising additional capital from project participants, we add the best coins to the investment portfolio, thereby allowing each project participant to increase their passive income without special skills.
Investment plans
$50 – $9999999: 1.55% hourly for 71 hours (deposit included)
$50 – $9999999: 112% after 68 hours
Deposit and withdrawal via Litecoin, Dogecoin, Ripple, Tron, Sol, Binance coin, Tether TRC20, Tether BEP20, Tether ERC20, BUSD
Cryptocurrency is accepted without conversion into dollars
Manual payments up to 1 hour
Minimum deposit 50$, 0.005BTC, 0.2ETH, 1000TRX, 1000DOGE, 1LTC, 200XRP, 0.3BNB, 2SOL, 400$ ERC20
Withdrawal minimum 2$, 0.0005BTC, 0.02ETH, 50TRX, 50DOGE, 0.05LTC, 10XRP, 0.02BNB, 0.1SOL, 80$ ERC20
There is no commission when withdrawing money
Affiliate Program
Smarty7 is interested in the best and most reliable partners from all over the world able to successfully develop their referral structure. A multi-tier referral program has been developed for this purpose, providing for 6 statuses.
The referral program is quite simple: the more active participants in the first tier, the higher your status and the bonus from each deposit of the referred participant. You can also improve your referral status by increasing your personal deposit.
Turn your website/blog/YouTube or social networks into a source of passive income by promoting the Smarty7 platform!
Beginner 8%-1%-1% and +2% reinvestment bonus: requires a personal contribution of $50 or 3 active referrals
Advanced 9%-1%-1% and +3% reinvestment bonus: requires a personal contribution of 30$ or 10 active referrals
Expert 10%-2%-1% and +4% reinvestment bonus: $1000 personal contribution or 25 active referrals required
Leader 10%-3%-1%-1% and +5% reinvestment bonus: $2000 personal contribution or 50 active referrals required
Ambassador 10%-4%-2%-1% and +6% reinvestment bonus: $5,000 or 100 active referrals required
Technical data
Script: undefined
Registrar: NameCheap show whois
Domain registration period: Jul 12, 2022 17:33 – Jul 12, 2023 17:33
Hosting: OVH
IP: 178.32.184.205 (1 Total HYIPs / 1 paying)
SSL: Sectigo RSA Domain Validation Secure Server CA valid from 12 Jul, 2022 to 13 Jul, 2023 – Sectigo Limited
NS servers: nora.ns.cloudflare.com, pablo.ns.cloudflare.com
Similar in design: 1 Similar in text: no matches found
Is

Smarty7.com

paying, legit or scam?
The current status of Smarty7.com is Paying. Please let us know if you see any signs of scams or good news let our community know in the comment section about your experience.
Disclaimer
Any information you find in this article is based on the publisher's opinion. You have the freedom to accept or reject this article and act on your own view of the foundation.
You are encouraged to share your own opinions or views on the platform with us through the comments box below to improve this article further. Thank you for reading the whole article.  VipHyips Team!
Join our community group to discuss and get the latest news: