Started: 11/11/2018
Payouts: Manual (up to 72 hours)
Min withdrawal: $10
Ref-offer 3%-2%-1%-0.5%-0.25% from the profit (Payments the transferred once a month to the trade balance)
Accepts: Bitcoin, Ethereum, Litecoin, Payeer, Perfect Money, QIWI, Yandex Money, Bitcoin Cash, Dogecoin, Dash
Perfect Money: U20039480 (ESSO MILLANNI INC) – RU.GIF Russian Federation – Verified – 04.03.2019 – 1 point(s)
Investment plans:
$10 – $2999: 134% after 1 year (principal included)
$3000 – $5999: 164% after 1 year (principal included)
$6000 – $18000: 194% after 1 year (principal included)
Binary options:
$0.5 – $2500: +85% AFTER 1-7 Minutes
$0.5 – $2500: +85% AFTER 25-60 Minutes
Website: Essomillanni.com
Esso Millanni INC binary broker was officially registered in 2018, in the state of Saint Vincent and the Grenadines. During this period, the company has managed to develop and implement its own strategy for the development of an online platform, which is engaged in the provision of financial services to both legal entities and private persons.
Access to the financial market and all its opportunities opens the door for our users to quickly and reliably generate dividends. However, in the territory of some states, in particular, the Russian Federation, this method of capital funds' accrual has not been widely used. In this regard, the company's management decided to launch the Russian version of the project, which allows residents of this country to participate in the activities of the binary options market.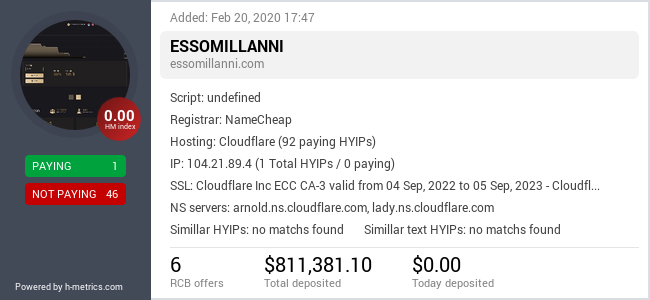 Investment plans
They developed various tariff plans. Each of them possesses its own advantages. Choose the most suitable for your option according to proper investment terms and conditions. You can use one or several plans at a time for having as much income as is possible in the shortest period.
They offer 101% profit after 10 days (100% insurance); 200% profit after 100 days (100% insurance).
Investment plans:
$10 – $2999: 134% after 1 year (principal included)
$3000 – $5999: 164% after 1 year (principal included)
$6000 – $18000: 194% after 1 year (principal included)
Binary options:
$0.5 – $2500: +85% AFTER 1-7 Minutes
$0.5 – $2500: +85% AFTER 25-60 Minutes
Affiliate Program
Partner: You can invite new clients to binary and investment options and earn 3% -2% -1% -0.5% -0.25% of their profit.
Representative: you can automatically increase deductions to 4%-3%-2%-1%-0.5%. There must be at least 500 customers.
Networked Business: Activate a $ 1000 business. Build your network of partners and earn 50% -5% -5% -5% -5% -5% -5% -5% -5% -5% from each activation.
Address: Corner of & Long Lane, Sharpe Street, Kingstown, St Vincent and the Grenadines
Email: admin@essomillanni.vip
Telegram Support: @essomillanni
Technical data
Registrar: NameCheap show whois
Period: Nov 11, 2018 – Nov 11, 2024
Script: undefined
Hosting: Cloudflare (155 paying HYIPs)
IP address: 104.21.89.4 (Canada / Toronto)
IP was not used in other projects
NS servers: arnold.ns.cloudflare.com, lady.ns.cloudflare.com
SSL: Cloudflare Inc ECC CA-3 valid from 05 Oct, 2021 to 05 Oct, 2022 – Cloudflare, Inc.
The current status of Essomillanni.com is Paying. Please let us know if you see any signs of scams or good news let our community know in the comment section about your experience.
Disclaimer
Any information you find in this article is based on the publisher's opinion. You have the freedom to accept or reject this article and act on your own view of the foundation.
You are encouraged to share your own opinions or views on the platform with us through the comments box below to improve this article further. Thank you for reading the whole article.  VipHyips Team!
Join our community group to discuss and get the latest news: